Boasting a group of ancient structures that includes archways, pavilions, temple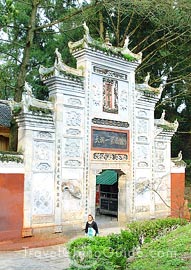 halls and corridors, Feiyun Cliff is a major ancient site of the Wuyang River Scenic Resort. It combines the marvelous natural scenery with exquisite buildings to form a truly fascinating and very highly rated place in south Guizhou.

Feiyun Cliff is located at the foot of Mount Dongpo, 12 kilometers (7 miles) east of Huangping. It was originally built in 1443 of the Ming Dynasty and then restored several times during the Qing Dynasty. Occupying an area of 2,000 square meters (2392 square yards), it is composed of three main buildings: Yuetan (Moon Pond) Temple, Yuetan Palace and Yangyun (Fostering Cloud) Pavilion, which encompass both the religious and the gardenesque architectural styles. When seen from afar, the grand and peculiar cliff is like flying clouds towering in mid air, which is how it got the name Feiyun (Flying Clouds) Cliff.

Feiyun Cliff is heavily wooded and its ancient buildings are harmoniously covered by the shade of the trees. Graceful natural and man-made scenery has made the cliff characterize a fine spring day all year round. So there is no doubt that it@,@s a beckoning tourist destination. Strolling in the location of the Feiyun Cliff, one may feel as if you had entered a wonderland. Engraved archways have religious mystery and reveal advanced engraving art. Simply decorated pavilions sprinkle the courtyard and serve as a resting spot for people. Serene temple halls house Buddha statues in the middle, where you can smell the fragrance of the joss sticks from the distance. All of these sights and sounds, including picturesque cliff scenery, water chattering among the mountains and sounds of the birds in the woods, will wash away all your earthborn vexations and make you feel relaxed and comfortable. Numerous poets, scholars, officials and merchants visited Feiyun Cliff, because the ancient post road of the Ming and Qing Dynasties passed through here. The visitors left a great number of stone inscriptions over the years.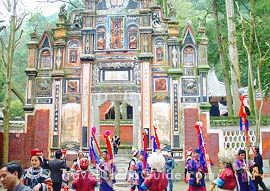 Wang Yangming, a scholar of the Ming Dynasty, said "Mountains under the heaven compare their beauty in Yunnan and Guizhou while the Feiyun Cliff is the most impressive and representative among them."
Annually, on the 8th day of the 4th lunar month, the ethnic minority people of neighboring areas gather at the Feiyun Cliff to hold their grand celebrations. During the celebrations, men play the Lusheng Pipe (a musical instrument made of bamboo), girls dance gracefully on large drums and some people burn joss sticks and pray to the God for blessings for their families. Other activities like horse racing and bullfighting are very popular too.