Location: Located in Aba Tibetan and Qiang Autonomous Prefecture, about 450 km north of Chengdu, the capital of Sichuan province

Neighboring areas: Qinghai, Gansu, Shaanxi, Hubei, Hunan, Guizhou, and Yunnan Provinces, Tibet and Chongqing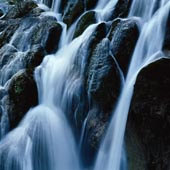 Physical Features: High altitude karst land features including calcareous tufa shoals, waterfalls, stepped lakes, high mountains and forests
Population: 50,000
Area: 5290 sq km
Nationalities: Tibetan, Qiang, Hui, Han
History: Established during the Qin Dynasty and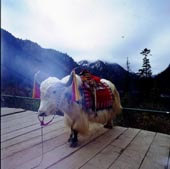 renamed to Jiuzhaigou County in 1998. However, the reserve was undisturbed until recently.
Climatic Feature: Cool temperate, damp and cold on the high mountain slopes and cool and dry in the valleys. Average annual temperature is 7.2

C. vibrant spring temperature ranges from 9

C-18

C; stable summer temperature of 19

C - 22

C fall temperature from 7

C - 18

C; winter temperature under zero.
Average Temperature: Average annual temperature is 7.2

C
Rainfall: Most of annual rainfall of 660mm occurs from May to September
Mountains: Min Shan Range
Rivers: Baishuijiang (White Water River)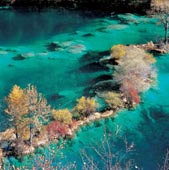 Specialties: landscape, landscape and landscape
Local Highlights: Its breathtaking natural beauty and Tibetan and Qiang culture