The Cheapest Tuition + Accommodation is 6600/ Year!
Ⅰ. Introduction
This University is a full-time public university in Shandong province. The university is located in Shandong province, which has a long history, profound culture, beautiful scenery and the reputation of "Pearl of South Shandong".
At present, the university covers an area of 1,142 mu, with a floor space of 410,000 square meters. The university enrolls students from 25 provinces (cities and autonomous regions) and has more than 19,000 full-time students. The university employs more than 1200 faculty members, including 900 full-time teachers, 360 with professors and associate professors, and 270 with doctoral degrees. At present, the university has 23 teaching institutes (departments), 60 undergraduate majors and 38 junior college majors, forming a discipline pattern of coordinated development of 9 major disciplines, including literature, science, engineering, management, education, history, economics, law and art. The university has been awarded the honorary title of "advanced unit of the university-enterprise cooperation in talent cultivation in Shandong province" for many consecutive years, and the title of "the most distinctive undergraduate the university in Shandong province" for three consecutive years.
Major for International Students
Students are required to complete the curriculum within 4 years and fulfill the designated courses. A successful graduate will receive a graduation certificate along with the bachelor's degree.
Ⅱ. Require documents
The application form "Application Form for International Students"
1. Passport Copy (Valid for at least 4 years)
2. An Official Certificate of Your Highest Education (or Notarized Photocopy)
3. Official Transcripts (or Notarized Photocopy) of last 8 semester
4. Certificate of Non-criminal Record
5. Physical Examination Record
6. Personal Resume(Optional)
7. Recommendation Letter(Optional)
Ⅲ. Approximate Expenses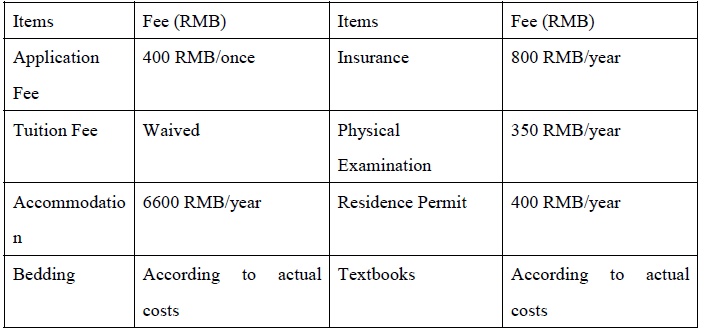 If you want to apply, please feel free to contact Shirly for more details:
Shirly
www.cuecc.com
Tel: 0086-15857187587
Whatsapp: 8615068158042
Facebook: Shirly Guo
Twitter: Shilry81054676
Instagram: guo.shirly
Wechat: CUECC2
Email:recruit@cuecc.com
skype: teachcn
QQ:2853662504