Location: Dalian, Liaoning province
About this university
It has 1 national key discipline, 15 provincial key disciplines; 4Liaoning provincial university first-class characteristic disciplines; 4 first level discipline doctorate degree authorization units, 9 first level discipline master's degree authorization units; 4 centers for post-doctoral studies; 1 innovation team of the Ministry of Education, 9 innovation teams of Liaoning institutes of higher education; 7 national key clinical specialties and 23 undergraduate majors. Clinical medicine of our school has been ranked top 1% of ESI global institutional rankings for 5 years since 2012.
It has more than 14,000 full-time students, including more than 4,500 postgraduates, 8,200 undergraduates and 1,300 overseas students.
Inheriting the history and creating the future. All teachers and students will always adhere to the motto of "inquisitive, practical, benevolent and compassionate" and school spirit of "united, rigorous, realistic and innovative", we will pay more attention to the quality of the university as the core and strive for the great goal of an advanced and internationally famous medical university in the future.
The applicant should be between 18-25 years old, mental and physical healthy, has completed the senior high school course with good marks, satisfied with the following marks requirement, has solid financial support to afford the study and living expenses in China. Chemistry, physics, biology, English are compulsory subjects, maths is a reference subject for admission evaluation.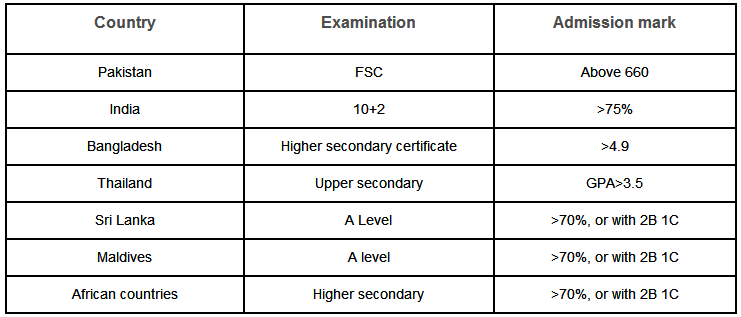 Program Highlights:
1. One of 30 universities which were authorized to conduct MBBS program in English medium by the Ministry of Education in 2007.
2. Most popular degree program for international students since 2004, nearly 1000 students have graduated from this program.
3. The degree is recognized by WHO.
4. The graduates of MBBS program are eligible to take the Medical Licensing Examinations held by the medical councils in different countries such as USMLE, MCI, PMDC,HPCSA, SCHS etc.
5. Two intakes per year.
About Tuition: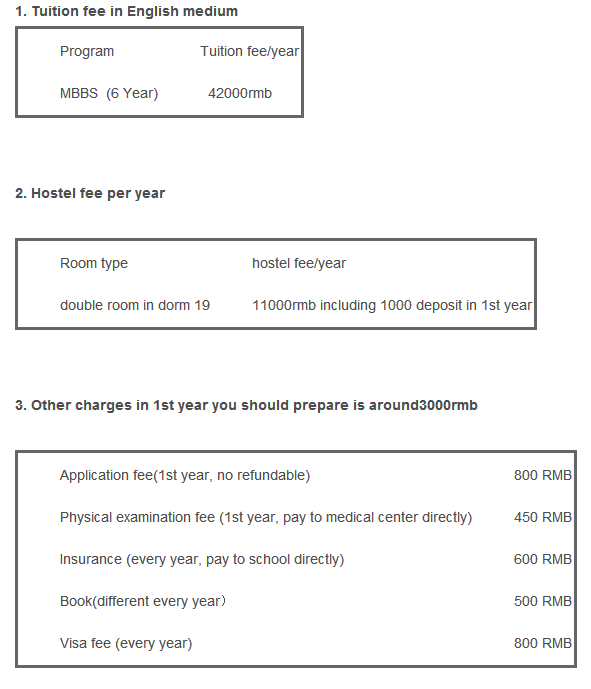 Application Materials:
1、Basic documents needed:
Passport and visa page, passport size photo, senior high school certificate/A level marks/national exam certificate or any equivalent mark sheet, IELTS or TOFEL if English is not your native/official language, declaration letter.
2、Other selective documents increasing admission rates:
Family financial proof certificate, medical check-up report, merit certificates, recommendation letter, and more completed information. The applicant who has the Chinese language background will be selected preferably under the same conditions.
*If you are underage (over 17 years old, but not reach 18 when school starts), you should submit the Guardian letter which should be attested by the Chinese embassy in your country.
If you want to apply, please feel free to contact Shirly for more details:
Shirly
www.cuecc.com
Tel: 0086-15857187587
Whatsapp: 8615068158042
Facebook: Shirly Guo
Twitter: Shilry81054676
Instagram: guo.shirly
Wechat: CUECC2
Email:recruit@cuecc.com
skype: teachcn
QQ:2853662504